The Calling Module 3 Kit
Heal & Welcome Divine Flow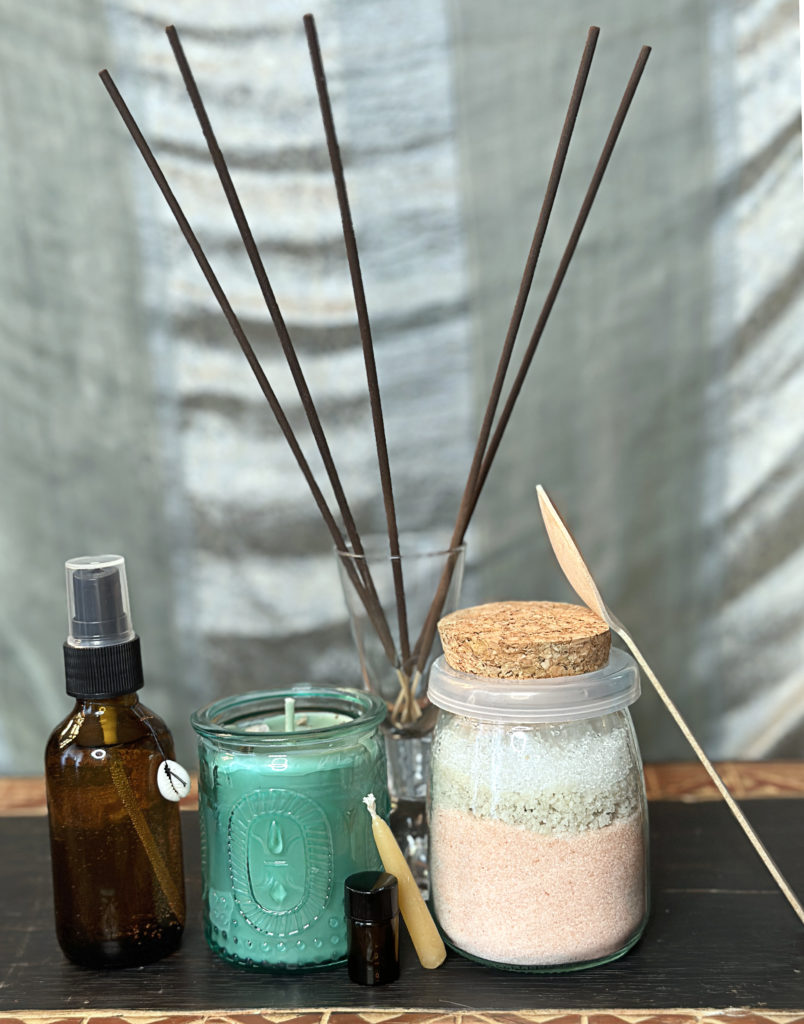 Release what does not serve you in order to welcome in healing, divine support, and optimal flow in all aspects of your being.
This is the magical kit to support your work in Module 3 of The Calling course. This kit comes with specially curated items that I personally handpicked, blessed, and/or handmade. I put these kits together so that you may experience the magick and blessings that I have received through working with these sacred plants and tools. I make these kits as affordable as possible because I get very excited to share this magick with you. May you experience the supportive magick of these sacred pieces that I lovingly made and/or blessed.
1 Mother Goddess Divine Flow Candle
2oz Healing Waters Spray
5 Sticks 4 Bodies Incense Stick
Materials for Module 3 ritual 7 oz jar,  Celtic salt, Himalayan salt, powdered neem, essential oil blend, beeswax candle, wooden spoon  
The deeper magick of these items:
Mother Goddess Divine Flow Candle

Release energies that do not serve, in order to welcome in love and supportive energy. Created and blessed during the super full moon and Sirius Gateway opening. The essential oils and herbs in this blend are known to clear negative and stagnant energy while drawing in love, prosperity, and emotional healing. Contains jasmine absolute, neroli, linden blossom, rosemary, davana, oakmoss absolute, clary sage, rhododendron, lavender, calamus root, orris root, spikenard, myrrh, hyssop, Palo Santo, frankincense, & lemon balm specially prepared and blessed during ritual. Hyssop, palo santo, and frankincense clear negative and stagnant energies. Rhododendron, lavender, neroli, and lemon balm essential oils heal the heart and soothe emotional trauma, in order to welcome potent and healthy loving energies. Calamus, lotus, spikenard and myrrh to invoke the alluring and hypnotic qualities of the deep waters and the moon. Damiana, orris root, muira puama, maca, passion flower, and oakmoss for boosting drive and self confidence while attracting high vibrational energies. Kunzite crystal added for emotional healing and expanding the heart. Topped with mugwort and lemon balm.
Burn to invoke the powerful healing and nourishing energies of the divine mother goddess of water.
Natural 30% Soy and 70% Beeswax blend.
Healing Waters Spray
Divine Flow essential oil blend blessed during the super full moon and Sirius Gateway opening. Made with high quality organic essential oils Neroli, Helichrysum, Lavender, Rosemary, Clary sage, and cedar atlas in a base of rose hydrosol and full moon blessed water.
This beautiful spray can be used to clear negative energy and welcome in loving, supportive, angelic energies. It also supports the connection and healthy flow of our 4 bodies.
To learn more about these ingredients check out our Module 3 Magical Materials video.
To use: Spray on yourself, and around your body as you would with a smoke cleansing. Can also be used to clear space as you would with smoke.

4 bodies Incense
This is a very powerful healing blend.Made with pure essential oils ritually crafted to heal and cultivate divine synergy among the 4 bodies. Blessed during the full moon while invoking divine mother goddess to support the energies of this powerful medicine. Blessed during the super full moon and Sirius Gateway opening
Cedar atlas to ground the physical body and connect to the nourishing energies of mother earth.
Petitegrain and Neroli to soothe and uplift the emotional body connecting to the energies of love and joy.
Rosemary and Clary sage to soothe and activate the third eye welcoming peace and clarity to the mental body.
Lavender and galbanum to strengthen the connection to the spiritual body. Welcoming divine understanding and healthy flow through all of the 7 chakras.
Materials for Module 3 Ritual Kit
During this module's live ritual we will be crafting a purifying bath salt or salt scrub to clear your body
This kit contains:
-7 oz jar
-Celtic Sea Salt
-Himalyan Sea Salt
-Dead Sea Salt
-Divine Flow essential oil blend blessed during the full moon. Made with high quality organic essential oils Cedar atlas, Helichrysum, Lavender, Neroli, Rosemary, Clary sage infused with mugwort. 1.5ml. Highly concentrated (enough to make multiple batches of bath salt, or healing waters spray, or nourishing face oil. I will post recipes soon.
-Powdered Neem
-Wooden Spoon
About the Ritual Kit Ingredients:
-Celtic salt is derived from the seashore of the sea in France. Himalayan salt is hand-mined in the form of rocks and Celtic salt and Dead Seas Salt that is obtained from the evaporation of seawater in the form of crystals. These are the most healing and nourishing salts available. Combining all 3 makes this a super blend for detoxification and nourishment.
Benefits of the Salt Blend
Help fight off pro-aging free radicals: The dense number of minerals in these salts combined fight off oxidation in the skill cells by eliminating free radicals, helping your skin looking younger and more vibrant.
A natural exfoliator: The gentle, yet abrasive texture these salts make this blend it an excellent exfoliator, which combined with its high sodium content, helps slough off dead skin cells and flakes, leaving you with fresh, revitalized skin.
Replenishes skin moisture: Minerals like calcium, zinc and potassium work to promote moisture retention, helping your skin stay soft, plump and hydrated.
Purifies your pores: This unique blend of salts has wonderful antifungal, antimicrobial, and antibacterial properties that help cleanse and detoxify the pores by driving out oils, dirt and other impurities. This helps to eliminate acne, pimples, blackheads and whiteheads.
Helps calm skin allergies, eczema, and psoriasis: A soothing bath in this salt blend can work wonders for skin allergies and conditions. The rich minerals work to exfoliate dead skin, help calm inflammation, and fight off allergens and microbes.
Soothes sore joints and muscles: A long, hot soak in these salts is a brilliant way to relax, unwind, and sooth those aching joints and muscles. Bromide helps ease muscle cramps, while the anti-inflammatory and detoxifying agents help reduce joint swelling, soreness and stiffness.
-Divine Flow essential oil blend blessed during the full moon. Made with high quality organic essential oils Cedar atlas, Helichrysum, Lavender, Neroli, Rosemary, Clary sage. This beautiful blend of skin loving essential oils works synergistically to clear negative energy and toxins from the body while welcoming in love, and healthy flow through the system. Helichrysum, Neroli, Lavender, & Clary sage are all skin healing powerhouses that are known to rejuvenate the skin. Helichrysum, neroli, and lavender are oils that are in my regular skincare regimen. 
*Mugwort- I absolutely love mugwort for so many reasons, I will be teaching more about it in a later module. It is a powerful healing herb that also works well at amplifying and harmonizing the medicine of other plants. Adding mugwort to this bath will help to relax the body and allow proper blood circulation. It is known to replenish bad blood, so it allows for beneficial flow within the body. Because it helps with blood flow, Mugwort baths also help relieve menstrual discomfort. There is Mugwort infused in the essential oil blend.
-Powdered neem- another powerful detoxifying plant that is considered a miracle tree in India. It has a long list of healing benefits. It has antibacterial, antifungal and antiviral properties which makes it great for blocked pores and skin issues. It is also know to have anti-inflammatory properties as well. It helps to get the blood circulating properly and is highly favored in bathing applications. 
-Small beeswax candle 20min burn. 
*If you decide to make a salt scrub instead of a salt bath, you will need to have about 3-4 Tablespoons of carrier oil. I like to use grapeseed or olive oil. Olive Oil is related to Jupiter and has powerful magical properties. Grapeseed oil has skin healing benefits and I love the texture of it.

May you experience the supportive magick of these sacred pieces that I lovingly made and/or blessed. 
Order the Module 3 Kit in my Etsy Shop Here. Only 1 per student please. This kit is very limited.