The Calling Module 2 Kit
Expand the heart and invoke the power of love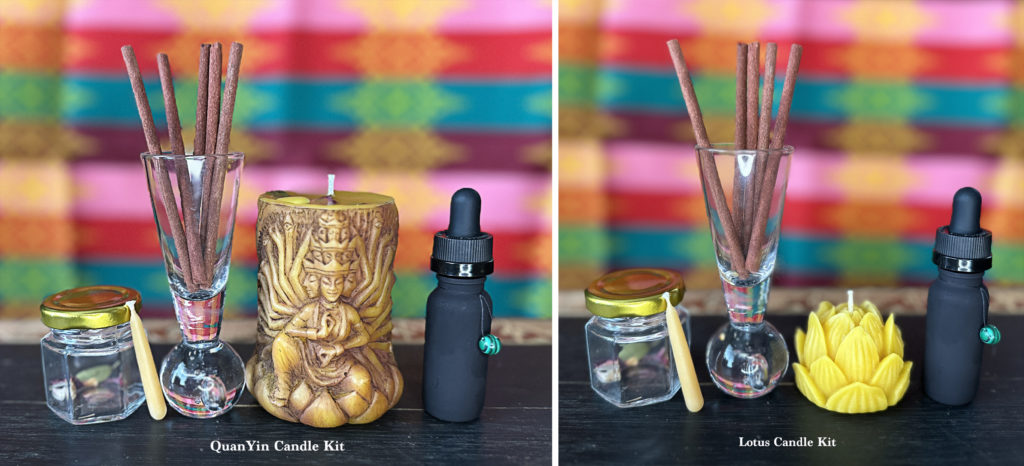 Love is the most powerful energy that we as humans can wield. It's more than just an emotion. It is a force. This is the magical kit to support your work in Module 2 of The Calling course. This kit comes with specially curated items that I personally handpicked, blessed, and/or handmade. I put these kits together so that you may experience the magick and blessings that I have received through working with these sacred plants and tools. I make these kits as affordable as possible because I get extremely excited to share this magick with you.
1 Quan yin or Lotus Candle
1 Heart Expanding Anointing Oil
5 Sticks White Lotus Incense
Materials for Module 2 ritual (honey jar) seeds, herbs, flowers, mini beeswax ritual candle.
*Glass holding incense in photo not included.
The deeper magick of these items:
Quan Yin or Lotus Beeswax Candle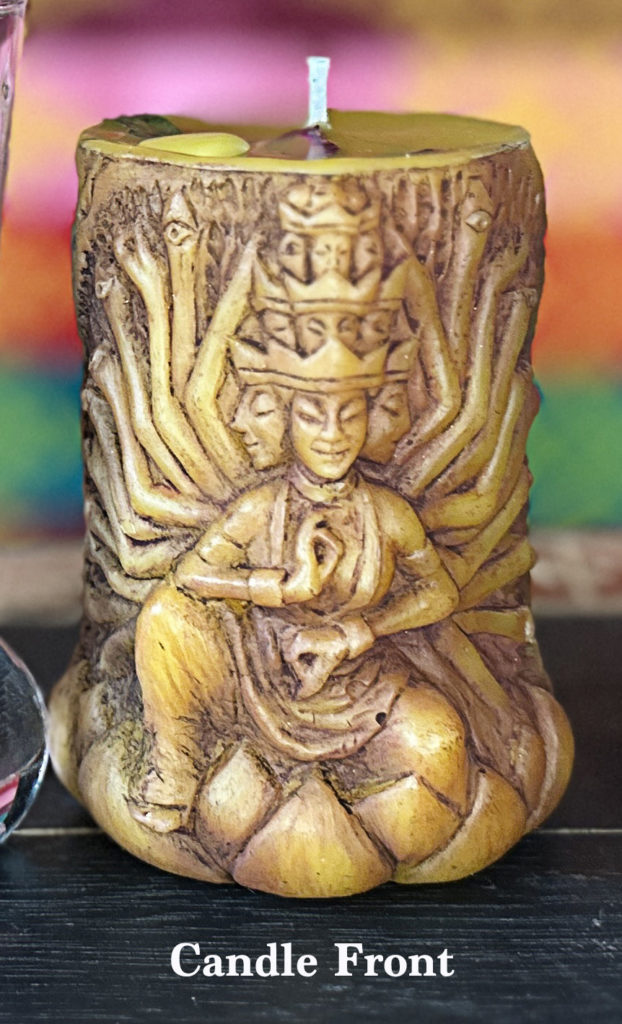 For this month's candle you have 2 options. The large Quan Yin candle (10oz) or the small lotus candle.(2.5oz) They are both cast with the same sacred materials. Rose absolute, Ylang ylang, geranium, jasmine absolute, juniper berry, lavender, sage, Roman chamomile, rhododendron, rosemary, German chamomile, Myrtle, Lotus leaf. Created during multiple powerful rituals to heal and expand the heart- Allowing you to attract and connect more deeply to supportive energies. This blend welcomes love, peace, inner strength, emotional healing, compassion, comfort, and is blessed to heal your ability to attract and receive supportive energies aligned to your highest path.

I'm especially excited about the beautiful Quan Yin candle sculpted by my talented huswife, Cig Neutron. It features the thousand-armed, thousand-eyed bodhisattva. On the back of the candle, Om Mani Padme Hum (Jewel in the Heart of the Lotus) is inscribed above an engraving of the eyes of Buddha. This is a powerful talisman for peace, love, and protection. I couldn't be more happy with this beautiful candle which is exclusive to this course for now. Hand-painted with natural pigments. This candle is also topped with rose and guava leaf.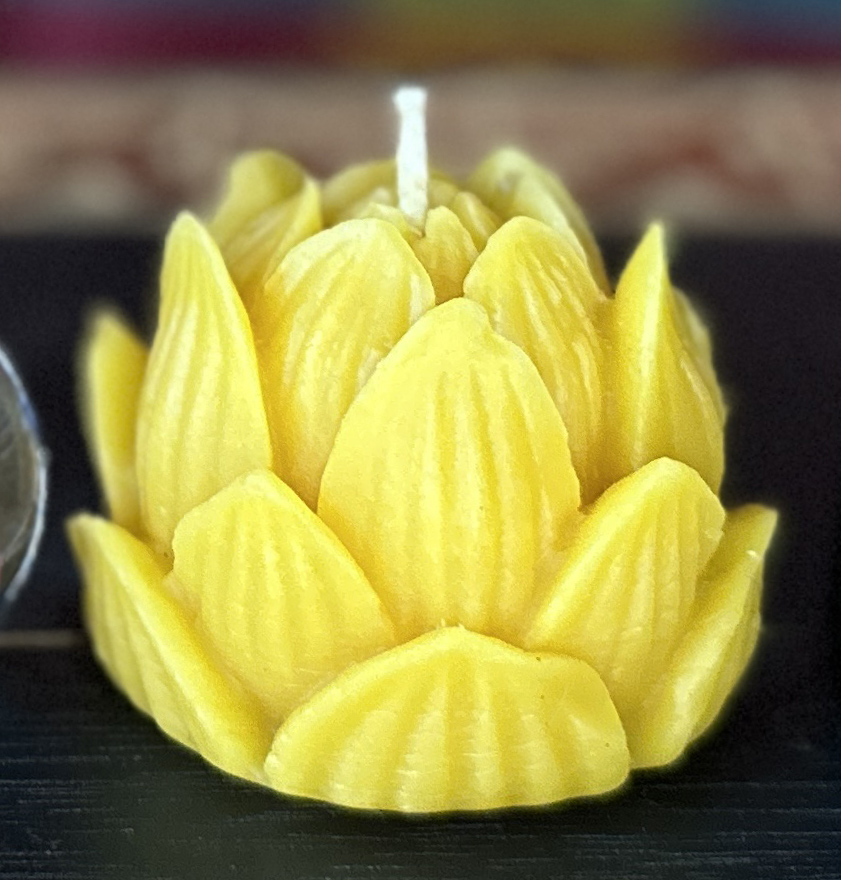 The Quan Yin candle costs more than the Lotus candle because it is much larger in size and will have a much longer burn time. It is also a lot more complicated and time consuming to cast. They both have the same powerful plant medicine cast in beeswax.
Heart Expanding Anointing Oil
I am so in love with the energy and aroma of this powerful anointing oil! This beautiful blend was created and blessed invoke high vibrational energies of love to heal and expand the heart. Anointing with this sacred oil also helps to connect the heart to the mind which allows you to go deeper when working with spirit and sacred space. It works to strengthen your ability to trust your intuition while invoking a sense of peace, love, and euphoria. I personally crafted this with my some of my favorite organic essential oils, some very pricey and hard to obtain. Rose absolute, Ylang Ylang, Geranium, Cacao absolute, Lemon Balm, Linden Blossom, and Guava leaf. Each of these ingredients are powerful plant medicines that heal and expand the heart. Lovage and Myrtle attract love, pleasure, and prosperity. Davana connects you to your truest self and welcomes spiritual transformation. Sandalwood and Ho wood stimulate the crown and third eye chakras deepening spiritual connections and welcoming clarity.
Use to anoint yourself before entering sacred space or whenever you wish to invoke powerful energies of love, support, and aligned relationships. This can also be used in love and attraction spells, to anoint ritual tools, or added to love baths.

Created during powerful ritual using only high quality organic essential oils, plant materials, and organic coconut oil. Contains rose quartz chip stone to amplify the heart medicine. Adorned with a malachite bead which is also powerful heart medicine.This sacred oil has been blessed on my prosperity/goddess/healing/divine feminine altars.
Ancient Tibetan White Lotus Incense
"Contains white lotus which stimulates the kundalini energy that lies coiled in the base of the spine like a sleeping serpent: can be awakened and brightened through yogic disciplines and meditations which no wind has never disturbed. Lotus is also considered a medicine for aiding concentration, anti-allergic and anti-spasmodic. Handmade in Nepal."
I also blessed and infused this incense with essential oils of geranium, ylang ylang, white lotus, Palmarosa, Howood, Cypress, Myrrh, Juniper berry, Himalayan Cedar, Cardamom to strengthen the medicine of this incense to heal the heart and strengthen it's connections to the other energy centers in the body.
Materials for Module 2 Ritual Kit
During this module's live ritual we will be preparing a sweet jar in order to attract and cultivate energies aligned to our wishes. This can be for love, prosperity, healing, work, relationships, etc. This kit will provide:
-1.5 oz hexagonal jar
-Dried herbs, seeds, including rose, papaya seed, cardamom, orris root, tobacco flower, hibiscus, & passion flower
-Small beeswax candle 20min burn.
*You will need provide your own sweet liquid to fill the jar. I will be working with honey, but feel free to use any thing from maple syrup, agave, or corn syrup. Also any other herbs, seeds, materials that you would like to add to the jar.

May you experience the supportive magick of these sacred pieces that I lovingly made and/or blessed.